One of the most exciting parts of interior design is the consistent change that comes along with it. Each year new trends emerge, blending form and function in a way that tells the story of one's personal style. But no matter the space or direction, all great design starts with a little bit of research. From color trends to predictions for the future, Garden State Tile has compiled a list of professional insight from Interior Designers to get you ready for your next home project.
1. WHAT IS YOUR FAVORITE TREND YOU ARE SEEING IN INTERIOR DESIGN RIGHT NOW AND HOW DO YOU EXECUTE IT?
Tara McGeehan, Philadelphia, PA: I love that design is trending more toward color again! People are moving away from the safe standards like white subway tile (which will always be classic) and daring to be bolder! I embraced this in a recent bathroom renovation where I used a scalloped tile in a beautiful range of teal tones and accented it with brass fixtures to really make the space pop. I'm also seeing this trend a lot in bold wallpaper choices and bold upholstery fabrics.
Tara McGeehan
Owner/Designer, Tara Ryan Designs
www.tararyandesigns.com
@tararyandesigns (Instagram, Pinterest, and Facebook)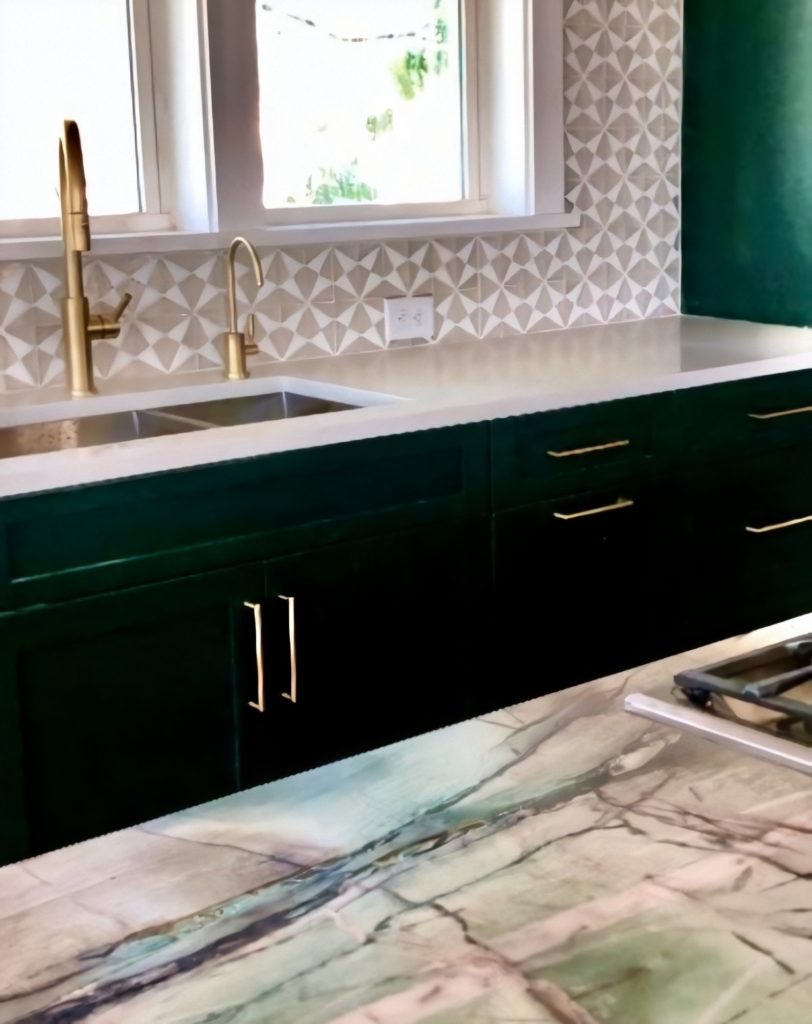 2. WHAT DO YOU FIND MOST REWARDING (AND MOST CHALLENGING) ABOUT DESIGNING A HOME?
LuAnn McCants, Charleston, SC: What I find most rewarding about designing a home is the process itself. By forming relationships and asking great questions we are able to help clients with defining their personal style. My approach allows the design to evolve, and listening to your clients needs and goals creates a place that reflects the owners and not the decorator!
The environment can be one of the most challenging components when designing a home. We are located in the coastal region of South Carolina, and are often dodging hurricanes and tropical storms during construction. Being familiar with products and resources that will withstand the elements in our area is very important. Working with knowledgeable vendors (like the Design Consultants at Garden State Tile in Charleston!) allows us to make creative, yet durable selections for our projects along the coast.
LuAnn McCants
Interior Designer / Allied Member ASID, LuAnn McCants Interiors, LLC.
www.luannmccantsinteriors.com
@luannmccantsinteriors (Instagram)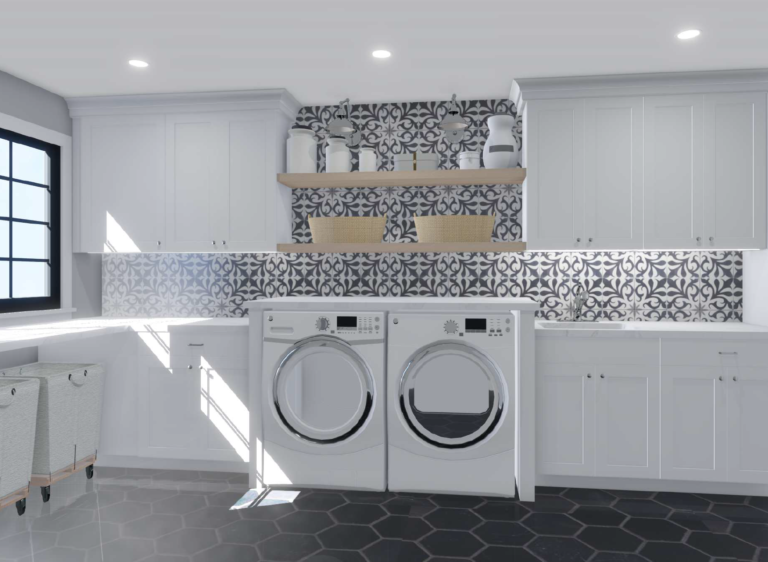 3. HOW DO YOU BALANCE TRENDINESS AND TIMELESSNESS IN NEW BUILD HOME PROJECTS?
Lauren Villano, Coopersburg, PA: I always encourage clients to choose the timeless, classic elements as the building blocks for their homes. Go with a classic cabinet finish and quartz or marble counter and have fun with your backsplash tile and lighting. Those are easier elements to change out in 5-10 years when you want something different. Even in softer living spaces, I encourage neutrals for larger items like couches and sectionals and then have fun with throw pillows and area rugs. You want your big-ticket items to be the timeless element, so you get the life out of them.
Lauren Villano
Designer, Erwin Forrest Builders
www.erwinforrest.com
@erwinforrestbuilders (Instagram and Facebook)
4. HOW DO YOU SEE TRENDS IN COLOR PROGRESSING OVER THE NEXT FEW YEARS?
Ashley Houston, Columbia, SC: For the last decade or so, the grays have won big, but I have seen more of my clients being open to other options. How I use color really depends on the space. For instance, in a living room, if I'm going to introduce saturated color through fabric choices, I'll pair these with white walls, or vice versa, to give the eyes some place to rest. Kid spaces have always been a place where color and whimsy are embraced and celebrated, whereas in kitchens I think you'll still see classic white being the front runner.
Where I'm seeing the biggest shift lately has been in bathrooms. Whether it be bright and fun wallpaper in a powder room, or a unique tile choice in a guest bath, my clients are loving all the different products coming out, and these are FUN to design with! I recently completed a kid's bathroom for a client in Mount Pleasant. She couldn't decide which color tile she liked best, the brown, the taupe, the teal… so I suggested we use all three. The finished result reminds me of a beach towel. Perfect for this coastal home!
Ashley Houston
Interior Designer, The Houston House, LLC
www.houstonhousedesign.com
@thehoustonhouse (Instagram)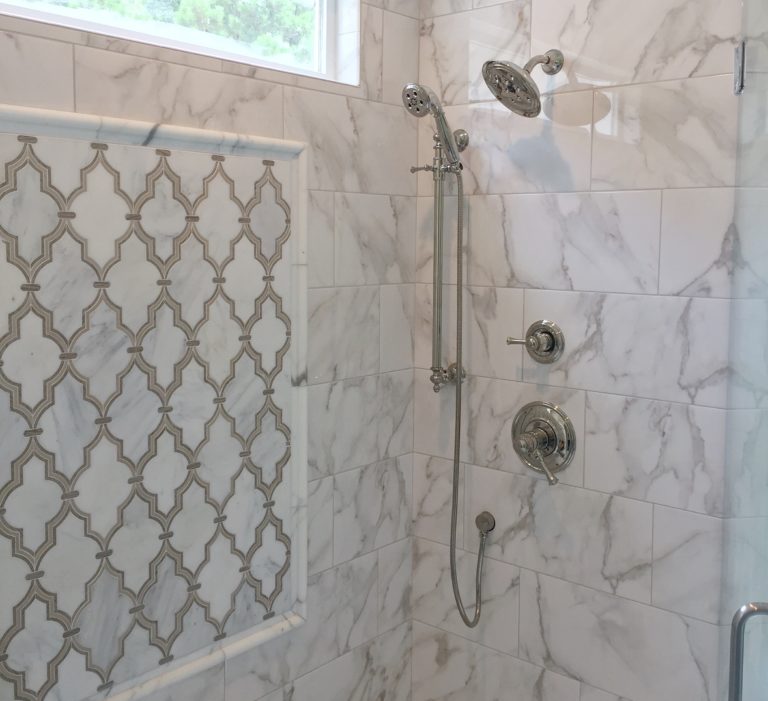 5. WHAT ARE SOME OF YOUR FAVORITE MATERIALS TO WORK WITH AND YOUR FAVORITE WAYS TO UTILIZE THEM?
Christy Davis, Columbia, SC: I love to mix metal finishes. It makes for a more cultivated and sophisticated look. For example, your light might be in gold and your lamps & furniture (if metal) could be in a bronze or silver finish. Or you can do a gallery wall of art and frames or art pieces using mixed metals. More often than not, they complement one another.
I also love to use natural stone when I can. If your budget does not allow you to use all natural stone everywhere, I suggest using a combination of a porcelain stoneware and real marble. In the above, I used a marble-look porcelain for the field tile and a waterjet marble mosaic in a master bathroom. Sometimes, you have to be creative with the design. I also love a combination of marble and metal….so fabulous! These make for a perfect floor, backsplash, or accent wall!
Christy Davis
Owner, Christy Davis Interiors
www.christydavisinteriors.com
@christyrdavis (Instagram)
6. WHAT ROOM OF THE HOME IS YOUR FAVORITE TO DESIGN?
Robin Winter-Bailey, Westfield, NJ: My favorite room to design in a house is the kitchen. The kitchen has endless possibilities from combining finishes to texture to styling. It is an open palette to have fun with as each client is different and the projects reflect their personality which is most important.
The project above reflects the personality of the old-world stucco home. We pride ourselves on keeping the integrity of a home. The old world embossed English textile pattern from GST we chose was a perfect selection as the backdrop of the wet bar.
Robin Winter Bailey
Interior Designer, RWB Designs LLC.
www.rwbdesigns.org
@robinwinterbailey (Instagram and Facebook)
7. WHAT DO YOU SEE FOR THE FUTURE OF INTERIOR DESIGN?
Angela Groover and Pam Rody, Savannah, GA: As technology advances, interior design will become more digital. Clients will be able to virtually view proposed design options and will be able to make informed decisions even if they cannot see the design in their mind's eye.
Interior design will become more accessible to a wider group of people as well. Even now, designers can showcase their portfolios on social media and more people are exposed to their work. This does mean that clients can also source materials on their own without a designer, but nothing can replace the service of a designer to help pull it all together.
Furthermore, design is tending to become less formal and less permanent than in days past. Younger clientele have more disposable income than ever before and don't want or need to rely on hand-me-downs from their grandparents to furnish their homes. This younger client wants instant gratification and trendy designs that will not necessarily need to last them years and years. Thus, traditional interiors are something of the past, which makes our job more exciting as there is more diversity and eclectic design.
Angela Groover and Pam Rody, Interior Designers
Interior Merchandising, Inc.
www.interiormerchandisinginc.com
@interiormerchandising (Facebook)
For more tips, products, and trends from Garden State Tile, follow us on Instagram, Facebook, Pinterest and Twitter.