At Garden State Tile we take pride in the strong relationships that we have built with the interior design community. The Garden State Tile Designer Series takes an in-depth look at the people who have supported us over the last 60 years, and whom we've worked with to create breathtaking spaces around the country.
Meet Tina Delia, Delia Designs
After graduating with her Masters in Interior Architecture and Design 10 years ago, Tina Delia started her journey to offering Boutique Architectural & Interior Design services throughout Philadelphia, PA and beyond. Since then Delia Designs has gone on to execute elegant, versatile and functional solutions for a variety of spaces including homes, workplaces, restaurants, hotels and retail stores. We chatted with Tina about her forward thinking design style, and how her recent trip to Italy with Garden State Tile has sparked some fresh inspiration!
Tell us a little bit about yourself!
I started Delia Designs 10 years ago, one year after graduating with my Masters degree in Interior Architecture and Design. I studied psychology as an undergrad and then went onto law school. I practiced law for 5 years before embarking on the career change journey to interior design. I now specialize in the interior design for the multi-family dwellings and hospitality spaces with a special interest boutique hotels and the health and wellness industry.
I truly believe that our spaces have the ability to affect us on an emotional level. In every project, I look to move, inspire others to see, think and create freely. It's not only about creating beautiful spaces for me, it's about touching the lives of the people who live, breathe and walk through those spaces.
How long have you been working with Garden State Tile and how do we help you achieve your design goals?
I've been working with Garden State Tile for 9 years. Very soon after starting my company, I found GST and it's been such a rewarding experience working with the Design Consultants in the showroom as well as with Chris Benek, my A&D Rep.
I've always felt that GST is interested in assisting me in my process. The Design Consultants in the showroom and the A&D Reps in the field give me as much guidance as I need for a specific project. If I know what I want for a particular space, I can get a sample, pricing and a quote quickly. If I happen to need more assistance, I can ask for recommendations and I know that these recommendations will be comprehensive. If there is something that is not currently stocked, the associates will look to find that product and bring it in for me. I couldn't ask for anything more from them!
What makes your design style unique?
What makes my style unique starts with concept creation. I gain inspiration beyond mainstream sources and look to push the interior of the spaces I design conceptually. I've come to realize that when my work is inspired by my own needs, interests and surroundings specifically, it's unlikely to be just like somebody else's work or current trends. My style and unique approach is always the result of my experiences and the parts of work I enjoy doing the most.
What is the most important factor when designing a space for your clients?
The most important factor when designing a space for a client is to determine meaning. I find it helpful to determine at the outset how the client intends to utilize the space and really ensure that it functions well for them. I use style as a contextual tool, varying to fit the project and the client's needs. Fads are hard to avoid, and not always bad. It is easy to generalize and dismiss common design trends, when, in some cases, they are actually very relevant! There are very valid reasons for wanting to design with a certain style or trend in mind but for me, it has to have meaning.
What are some of your favorite tile trends that you are seeing today?
I'm really loving the "new" shapes in tile such as the picket. These are a decidedly fresh take on the traditional white Subway tile. I'm also into the larger formats that are trending now that allow for designers to create very simple and clean spaces or go bold and dramatic with heavy natural movement. In the classic end, I am enjoying the dramatic stone look tiles and the metal inserts that are being utilized to complement them.
How did your recent trip to Italy offer inspiration for your upcoming designs?
I find that travel is a great way to challenge perspective and gather creative inspiration in general. But, the change in scenery with the trip to Italy allowed me to remove clutter from my mind and focus on the small details like the awe-inspiring color palette of the countryside and the city of Bologna, the smell of fresh flowers as I walked down the road and even the sounds of the street where we stayed. That coupled with the delicious lunches and dinners and most of all the tile showrooms brought me much-needed clarity so that I could jump into work with a fresh mind full of inspiration upon my return.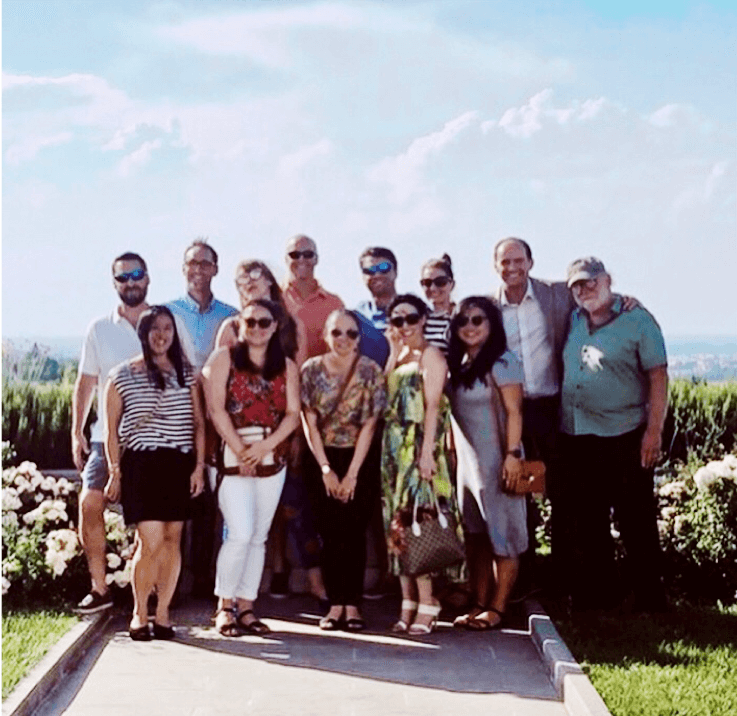 Thank you, Tina, for taking the time to chat with us and for your support over the last 9 years! For more on Tina and Delia Designs, be sure to follow her on Instagram and visit her website.