There are few things more exciting than jumping on a plane and traveling to a new destination. The new sights, smells, people, and cultures all make for an exciting journey that will leave you inspired for years to come.
Vivian and Joe, Principal Designers of Global Home Interiors took their expeditions to the next level by incorporating their travels into interior design concepts for their clients. As both a couple and business partners, they have circled the world multiple times in search of new friendships, experiences, and ideas. Along the way they have not only found sources for exciting interiors, but also developed an eye for how to bring aesthetics from different cultures together for perfectly curated designs.
From eyeing beautiful Carrara Marble in Italy to seeking out the vibrant hand-sewn rugs displayed on the streets of Morocco, interior influence can be pulled from any destination. Global Home Interiors, in partnership with Garden State Tile, have rounded up our top sources of interior inspiration paired with perfectly curated material palettes to help achieve the aesthetic of your wanderlust dreams.
1. A Paris Apartment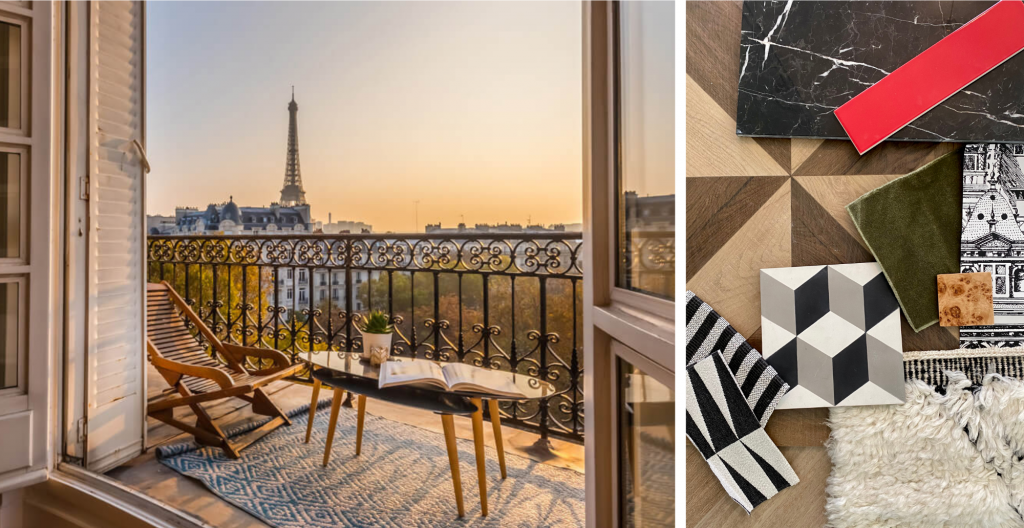 Paris is one of the most desirable travel destinations in the world thanks to its stunning architecture, its wealth of art and culture, and its exquisite culinary environment. Affectionately known as "The Capital City of Love," Paris provides a timeless and elegant charm through its artful architecture and interiors.
Parisians are known for their impeccable taste and love of preserving history when it comes to interior design. Creating a classically elegant space is key when achieving a Parisian aesthetic.
"To us, the Parisian aesthetic acknowledges its rich history and sophistication while incorporating elements of modern fashion movements. Baroque styling accented by flashes of cutting edge give Paris the eternal feeling of romance and chicness."
When it comes to color, contrasting shades of black and white with bold pops of royal color are key to creating spaces pulled straight from the Avenue des Champs-Élysées. Classic marble patterns, such as those found in the Tuscany collection, create a grand appearance in lobbies, foyers, and fireplaces. Add bursts of color to backsplashes and walls with vibrant ceramics, such as the Swatches collection Lipstick Red wall tile.
2. Rio Penthouse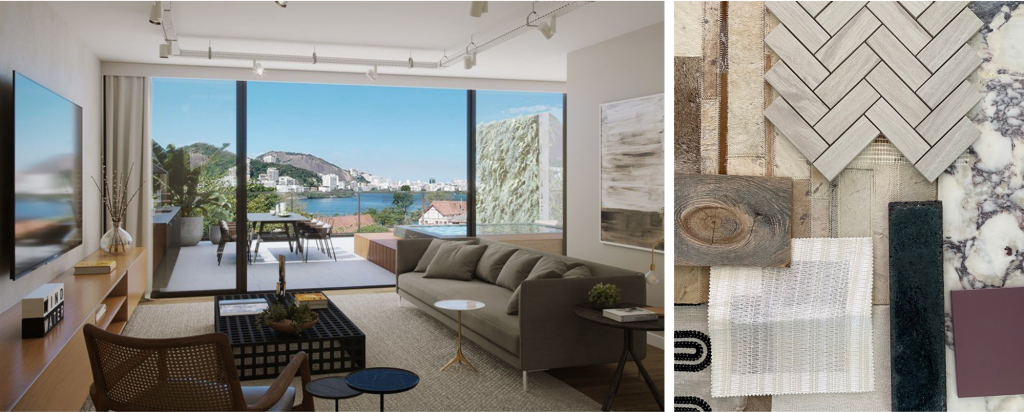 Known for its beautiful landscapes, vibrant culture, and 18 miles of beachfront, Rio de Janeiro is one of the most visited cities in the Southern Hemisphere. Influenced from the beautiful surroundings of this Brazilian destination, high-rise penthouse interiors are kept light and natural to play off the innate beauty of the city.
"First and foremost, Rio is about sex appeal and heat. Keeping it light doesn't mean being devoid of sensuality. The interplay of textures and reflectivity provides all the intrigue here. Knotty woods, sinewy patterned stone and deep color blend, beckoning to be touched."
Less is more in these coastal penthouses, with open spaces allowing for natural light and beautiful views to be seen from all corners of the space. Using a beautiful wood-look porcelain such as the Creekwood collection allows one to feel connected to nature, while colorful earth tones keep the designs feeling organic and light.
3. Irish Cottage

Irish cottages are known for their rustic charm and quirky elements that uniquely belong to the North Atlantic island.
"The best homes in Ireland artfully mix elements and colors from the rich surroundings, creating cozy and eclectic environments perfect for gatherings full of song, jokes, and stories with friends old and new."
Known as "Emerald Isle," incorporating deep earthy greens into architectural elements almost feels like a must. The weathered look and deep glaze of the Cobble Hill collection in Aegean Green brings in the perfect tone without being too bright or modern. 
Playing off the traditional cobblestone streets and brick facades of Dublin, the Marca Corona Bricklane Collection provides a traditional brick-look that is suitable for floors, walls, interiors, and exteriors. Paired with classic Irish plaids, this design exudes the pride of the Irish.
4. Tokyo Spa

Spas are a place for peace and tranquility, and no other place brings out these feelings more so than the spas of Tokyo, Japan.
Simplistic and beautiful, Tokyo spas use natural elements to bring a soothing experience to their guests. Traditional Japanese colors such as yellow and red are added for pops of color and to bring out the positive emotions these colors can evoke. 
"Japan's history is thousands of years old yet their aesthetic feels modern and cutting edge. We love the meditative tidiness of a Japanese spa with splashes of color."
The Mutina Chymia collection from Garden State Tile pulls inspiration from Japanese spas, using a black and white color scheme with simplistic flower stamp design for elegant appearances. Pair this with a vibrant tile such as Yellow Corn Hex Mosaic from the Hexa collection to tie in the aesthetic of a soothing Tokyo experience.
5. Tangier Hotel

Tangier, Morocco, is known for its vibrant color palettes and handcrafted interior elements that make for a bold and beautiful impact that has endured for centuries. Most notably, these bold statements are expressed through the use of encaustic tiles, where colorful patterns are made by hand with different colors of clay. 
"As is typical in Islamic designs, there are not depictions of animate beings so the use of repetition in shapes must symbolize the transcendence of God. Moroccan design in particular is beloved for the intricate geometric motifs and use of deep saturated color like cobalt blues and brick reds. It is an exhilarating style; one of our favorites."
Once known as the most prominent destination for artists and writers, visitors come to Tangier for a bohemian escape. Using handcrafted elements such as tile and textiles make for that lively, yet organic, design experience that is so closely tied with Moroccan culture.

Thank you to Global Home Interiors for partnering with Garden State Tile on this exciting project. For more information on how Global Home and Garden State Tile can make your interior design dreams come true, visit: https://www.globalhomeny.com/