Warmer weather is finally here, and everyone is eager to get back outside! Enjoy the beauty of the great outdoors from the comfort of your own home with a newly remodeled exterior. Whether you're relaxing on the patio, entertaining on the rooftop, or cooking up a meal in your outdoor kitchen, one material reigns supreme for sustainability and durability in every season – and that's porcelain tile.
With so many colors, sizes, and styles to choose from, porcelain is one of the most versatile and reliable materials to choose for your exterior projects. Read on for tips and tricks on how to reshape your backyard and outdoor spaces this season with Garden State Tile's collection of outdoor porcelain products.
Create Flawless Transitions Indoors to Out
Make your outdoor area feel like an extension of your home by bringing the same interior looks you love into your outdoor spaces. By incorporating the same color schemes, patterns, and materials you'll be able to flawlessly blend the comforting feel of your interiors into the natural surroundings of the great outdoors.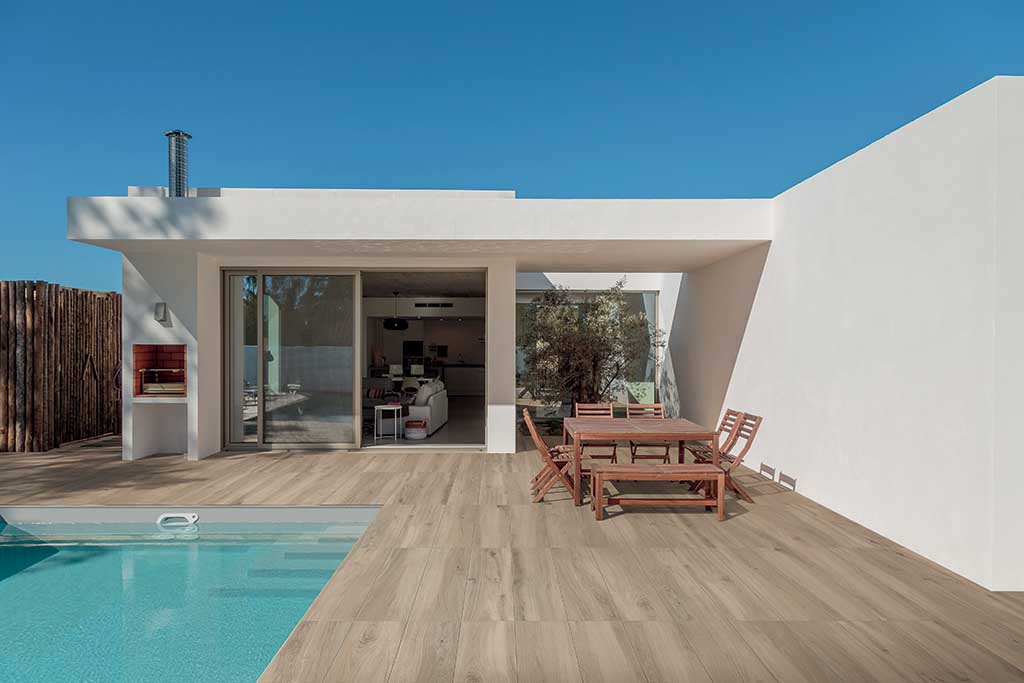 Versatile porcelain tile collections such as the Garden State Tile Creekwood Collection allows for seamless transitions from your main living quarters into your outdoor patio. Not only does this allow for your design style to flow from indoors to out, but also makes for a larger appearance of the home.
8mm or 10mm porcelain tile options are well suited for interior spaces, while a thicker, more durable 2CM paver from the same collection can be applied to patios or terraces, for an exterior solution with added slip resistance.
Perfect Your Pool Deck
Enhance the pleasure of laying poolside by constructing a luxurious pool deck that will also stand the test of time. While natural stone may eventually crack, porcelain pavers allow for the same high-end look with none of the maintenance. Whether you're adding furniture, extending your patio, or simply want more room for sun-bathing, a pool deck will have your backyard feeling like an oasis. For a completely cohesive look, the Canova collection from Garden State Tile features both pavers and numerous trim/coping options to fully re-create your pool into a serene work of art.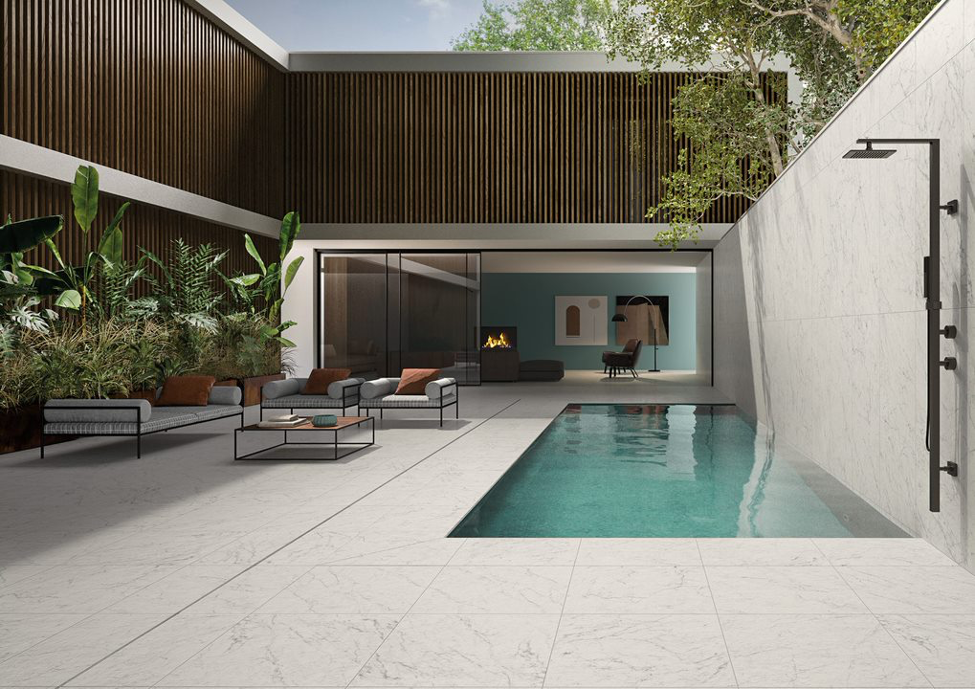 Heat Things Up with an Outdoor Kitchen
If action and entertaining are more your speed, an outdoor kitchen is a great way to have all your culinary essentials right at your fingertips. Drop-in BBQs, outdoor refrigerators, bar sinks, and ice makers are just some of the exterior technologies that make outdoor entertaining a breeze.
To bring it all together, porcelain countertops are the perfect solution for outdoor kitchens thanks to their UV resistance, frost resistance, and heat/humidity resistance. They're also extremely easy to clean, won't scratch, and are available in a variety of colors and finishes.
Raise the Roof (Deck)
In more urban settings where backyard space might be limited, enjoy the view from the top by creating an outdoor paradise on your own roof. Whether you're designing a space for lounging, entertaining, or a garden in the sky – there are endless options for transforming a rooftop space to fit your exterior needs.
Oftentimes unfinished roof decks are sloped for drainage with uneven surface levels and drop-offs. The Bison Paver Pedestal System from Garden State Tile features adjustable and durable pedestals that create level decks over these sloped surfaces with backings that enhance the collapse resistance of pavers.
For more tips, products, and trends from Garden State Tile, follow us on Instagram, Twitter, Facebook, and Pinterest.