Interior designers, artists and fine arts scholars have long believed that color can dramatically affect our moods. That's why each year the powerhouses of the design industry observe art, fashion, films, environment and cultural influences from around the world to select their "Color of The Year." These color selections are universally celebrated and routinely influence design decisions across multiple industries, including fashion, home furnishings, product packaging and industrial design. But what do these color selections really mean, and how can we use them to pave the way for the year ahead? Read on as Garden State Tile explores the 2020 Colors of The Year!
PANTONE 19-4052 Classic Blue
"Instilling calm, confidence, and connection, this enduring blue hue highlights our desire for a dependable and stable foundation on which to build as we cross the threshold into a new era." – The Pantone Color Institute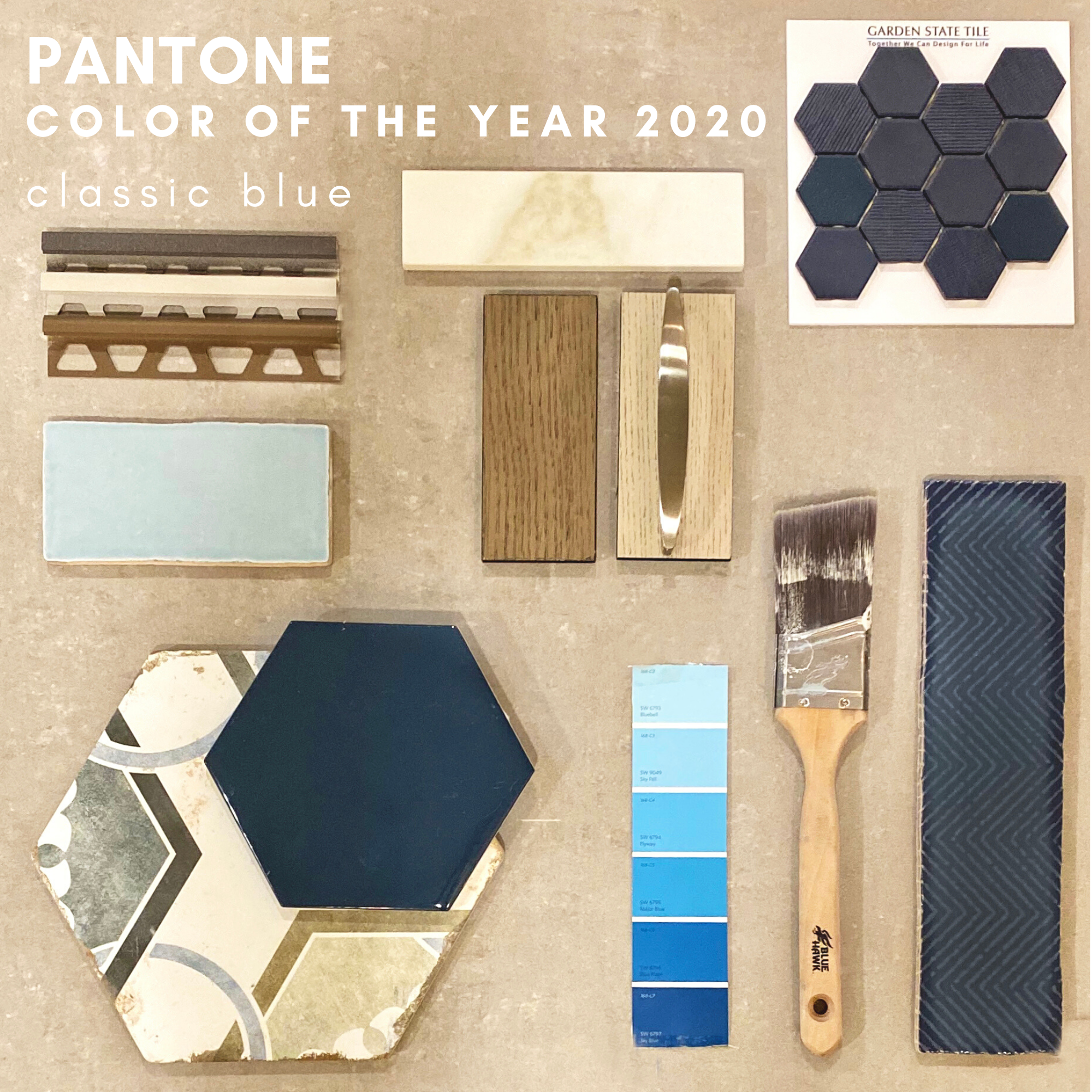 Pantone's Color of The Year "Classic Blue" is all about instilling confidence and faith as we enter a new decade. Blue is traditionally a restful color, and this selection brings balance, perspective and tranquility into the home and projects. Read more about the Pantone Color of The Year Here.
Blue Selections from Garden State Tile: Maritime Collection, Folly Blue | Bohemia Collection, Dalia | Hexa Wall Tile, Ocean Wave Glossy Hex | Hexa Porcelain Mosaics, Deep Navy Fabric Mix | California Collection, Highland Denim Deco
Benjamin Moore 2012-70 First Light
"A fresh palette. A revitalized spirit. A soft, rosy hue blooming with potential. Benjamin Moore's Color of the Year 2020, First Light 2102-70, is the backdrop for a bright new decade." – Benjamin Moore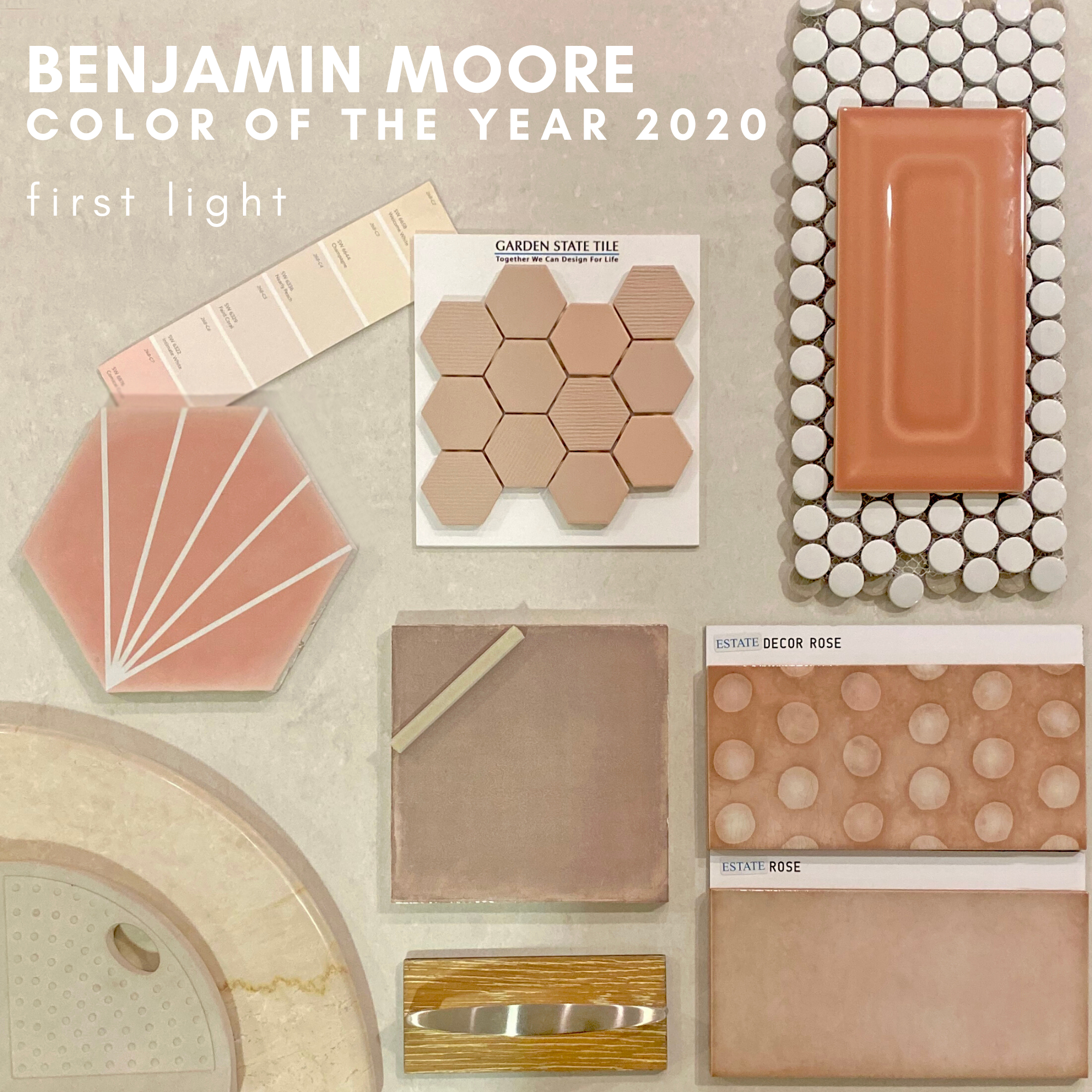 Modern and optimistic, Benjamin Moore's pastel selection "First Light" provides a clean slate for a fresh start. This soft, pink color is refreshing and uplifting with a playful spirit – the perfect introduction for rooms that require some additional pep. Read more about the Benjamin Moore Color of The Year here.
Pink Selections from Garden State Tile: Striped Hex Collection, Pink | Hexa Porcelain Mosaics, Rosy Blush Fabric Mix | Marrakesh Collection, Pink Powder | Arkstone Optic, Old Rose Lux | Arkstone Estate Decor Rose and Rose.
A Case For The Classics: Black & White
"Sophisticated, elegant and always on trend, the black & white color palette reminds us to appreciate the beauty in simplicity as we approach a complex new era." – Garden State Tile
Black & white tile selections from Garden State Tile take us back to the basics while also appreciating the luxuries of the modern day. The latest technological advances in tile have provided us with the ability to create deeper colors, funkier finishes and more interesting patterns that strike up a conversation while still being timeless and elegant.
Black & White Tile Selections from Garden State Tile: BauHaus Collection, Nero and Nero Bubble Deco | Adex, Neri Subway Tile, Black | Crossville Porcelain Countertops, State of Grace (Unpolished) and Black Tie (Polished) | Arkstone Estate, Decor Black
For more products and trends from Garden State Tile, follow us on Instagram, Facebook, Pinterest, and Twitter.