Old-world trends have made a much-welcomed resurgence into the design world recently, and there's one fan-favorite that is bringing its own contemporary twist: Terrazzo. Terrazzo's widely recognized speckled character is seen not only on the floors of churches, hospitals, and airports but also as a fashion pattern on mugs, bags, home decor, and more!
Terrazzo, by historical definition, is a flooring material consisting of chips of marble or granite set in concrete and polished down to give a smooth surface. However, with recent advancements in manufacturing technology, terrazzo now has the ability to be used for so much more than just flooring. Whether it be walls, backsplashes, countertops – the sky is the limit with terrazzo!
The History of Terrazzo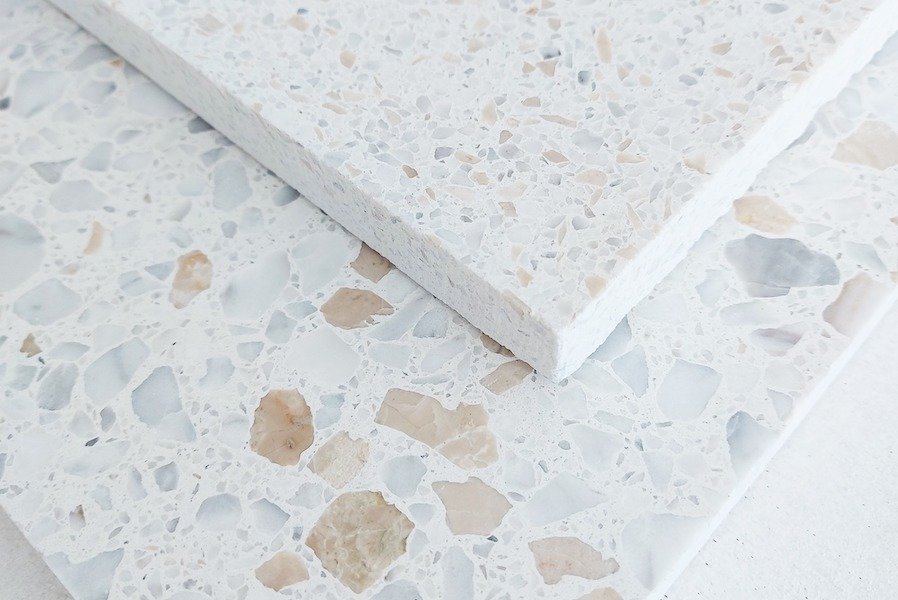 The history of terrazzo dates all the way back to the 15th century. Terrazzo, derived from the Italian word, "terrace," and was created in Venice, Italy as an innovative process of recycling leftover building materials. Once projects were completed, workers were often left with unusual sized scraps of granite and marble chips. Using these odd sized pieces, the workers would grind down the chips until smooth and use it for their own terraces.
Once advancements were made with the creation of white cement that could be dyed into many different colors – terrazzo flourished. Terrazzo was then used not only for terraces, but for churches, town centers, walkways and more all across Europe.
This aggregated material was introduced to the United States in the late 1700s where it was quickly used for monumental structures. However, the material did not become popular as a surface material until the Art Deco era of the 1920s. By then, Terrazzo was also introduced into commercial spaces such as airports, malls, schools, and hospitals where we often see it today.
With modern day manufacturing advancements, this luxurious product is now commonly crafted into smaller precast sizes with a much thinner body that can be used in the everyday home.
Modern Day Uses of Terrazzo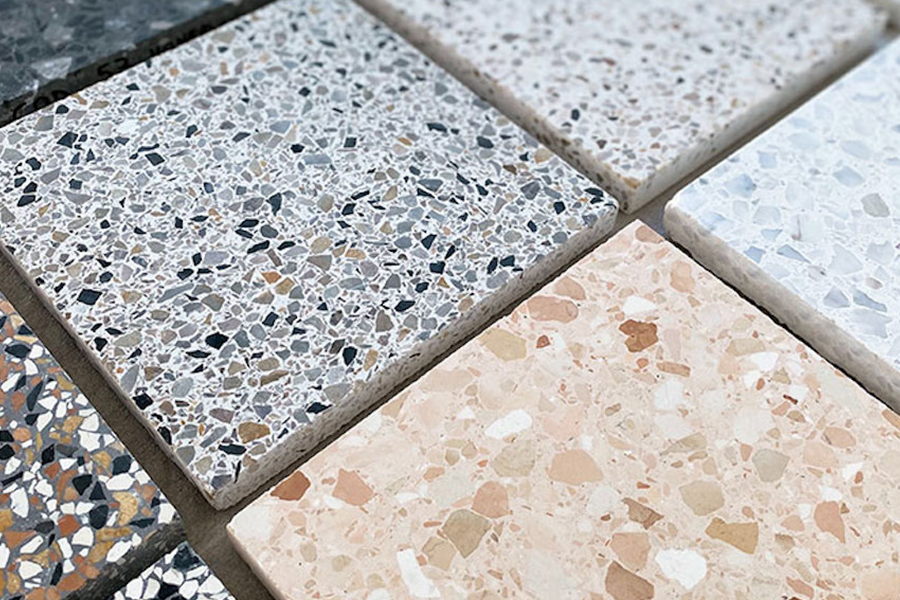 What originally emerged as a simple, affordable flooring solution is now a hand-crafted luxury in today's interior designs. While flooring was the original purpose of the material, designers are seeing a rise in terrazzo countertops, backsplashes, wall tile, furniture, lighting and decor. With white, dark, and colored options available, terrazzo can be used as either a statement piece or a new neutral to add sophistication to interiors.
Garden State Tile has just launched the new Ancona Terrazzo Collection – a true, authentic terrazzo line offering a distinctive look that's both strong and beautiful. Imported from Ancona, Italy these unique cement-based tiles are combined with the finest recycled marble chips to create a product that has something for every taste.
Why Terrazzo?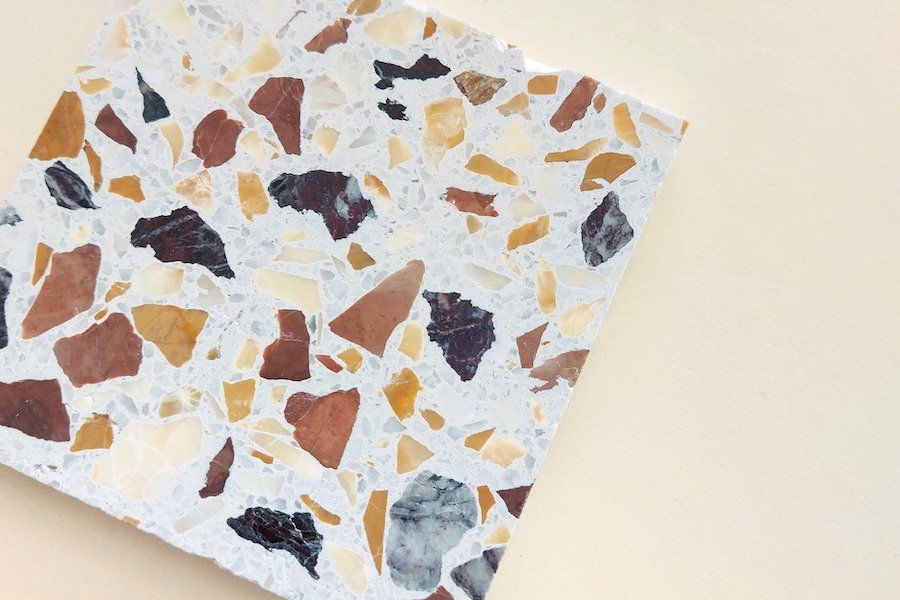 Having a piece of terrazzo in your home is equivalent to including a piece of history into your designs. Made from all-natural marble chips quarried from the beautiful Italian mountains, the Ancona Terrazzo Collection includes both a long line of artisan history as well as the many years it took for these marbles to be naturally formed.
Since Terrazzo is created from all-natural materials, no two pieces will ever be the same. Every design created is an original work of art, giving your space a uniqueness that can't be replicated. Ancona is available in 10 distinctive colors ranging from light to dark and a desirable 16″x16″ format for versatile applications.
Given the unique features and multiple varieties of this stylish trend, it is easy to see why this speckled material is growing in popularity. For more tips, products, and trends from Garden State Tile, follow us on Instagram, Twitter, Facebook, and Pinterest.