One of the most multifaceted materials out there – tile – can be used in almost any part of the home. With its unsurpassed functional and sustainable properties, ceramic and porcelain tile make a great addition to any project whether it be to walls, floors, showers, or even outdoor spaces.
A key feature that was once overlooked due to its focus on functionality is using tile as the aesthetic cornerstone of interior designs. With the latest advances in texture technology and digital printing, manufacturers have been able to enhance the formats and produce beautiful collections suitable for any style.
Shari Saiman, a registered architect with over 18 years of experience in architectural design and owner of Saiman Design, is no stranger to incorporating tile as a key part of her projects. "Over the years, I have evolved a style that incorporates tile more and more into the architecture of the space," says Saiman. "Rather than decorating or accenting the space, it comes to define the surfaces and play more of a feature role in the finished product."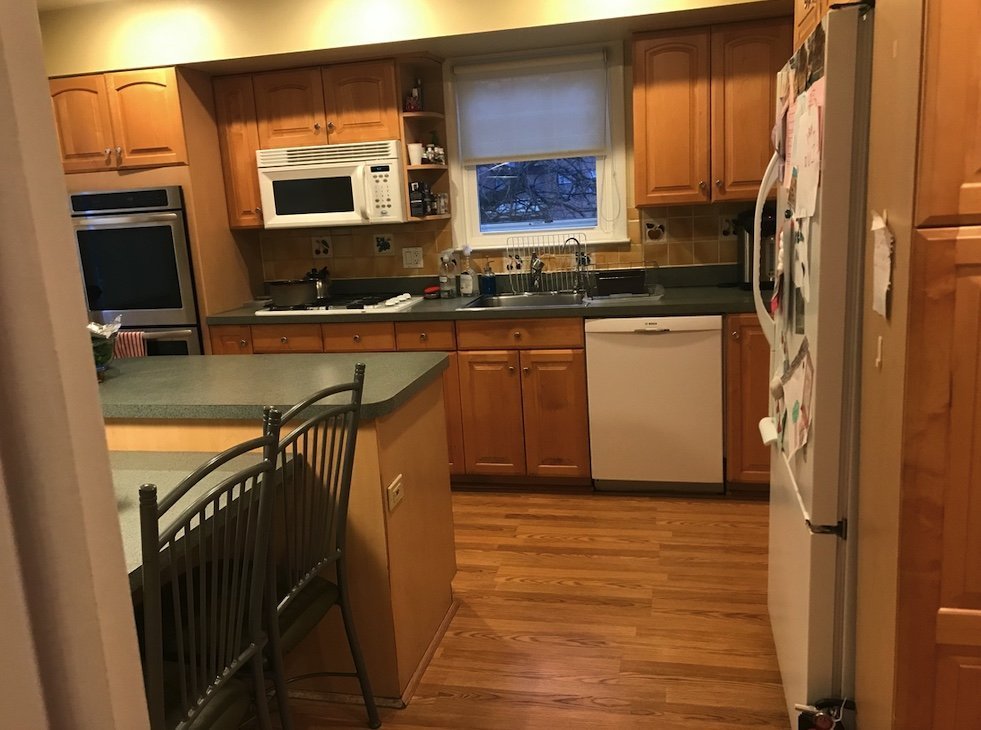 Saiman's own recent home renovation is the perfect example of just that. The original house was a warren of tight rooms separated by dark narrow hallways. Saiman and her team opened up the walls in the rear of the house as much as possible to combine the kitchen and former playroom into one contiguous bright space. After the re-construction was complete, Saiman turned to Garden State Tile to complete her vision.
"I have a long history of working with Garden State Tile, and their staff and numerous tile lines represent a key part of my design arsenal," explained Saiman. Recently, Saiman began incorporating fully tiled walls into spaces beyond the traditional bathroom application, and wanted to use this technique in her own home remodel. The goal for the project was having a home that felt open and connected throughout.
To bridge the kitchen and adjacent eating room, Saiman used Garden State Tile's Slash collection in Robin's Egg Blue. "Carrying the bold blue backsplash around the bend and up the wall gives it more of a defining role in the architecture."
To temper the high gloss of the Slash collection, the large format StoneOne concrete-look porcelain collection from Garden State Tile was installed on the floor.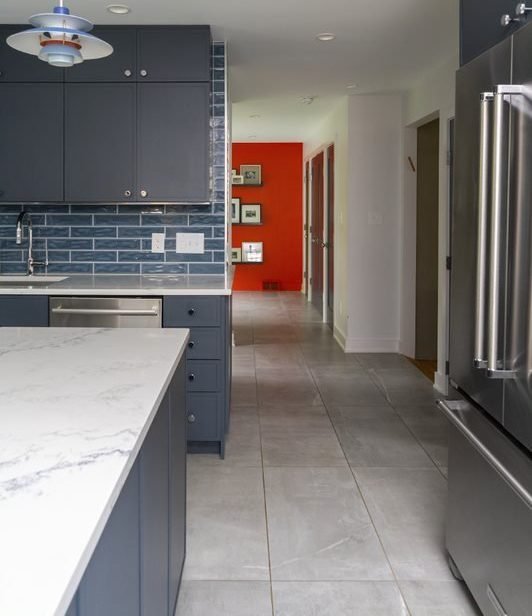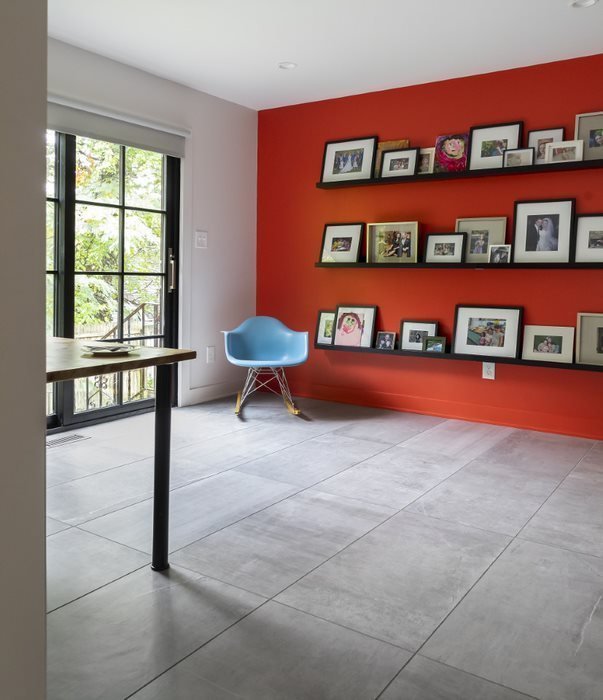 Paired with a bright orange-red picture wall, the newly joined space became a bold architectural composition of colored planes and textures that change with the light over the course of the day. The uniform floor tile connecting these once detached spaces, as well as the blue wall tile wrapping into the connecting hallway, were key to the success of the project.
Thank you, Shari Saiman, for sharing your home renovation with us! To see more from this project, be sure to follow Saiman on Instagram @saimandesign and visit https://www.saimandesign.com/
Photography by Linda McManus Images.