As many business owners and commercial contractors know too well, certain industries have particularly strict commercial flooring standards for the health and safety of the building's occupants. Restaurant kitchens present a unique challenge to owners and contractors because of the prevalence of moisture and grease within the space that can settle on floors and make this high traffic area dangerous. In a restaurant kitchen, not only does the commercial tile set a foundation for aesthetic, but they must also, and more importantly, provide traction for slip-resistance.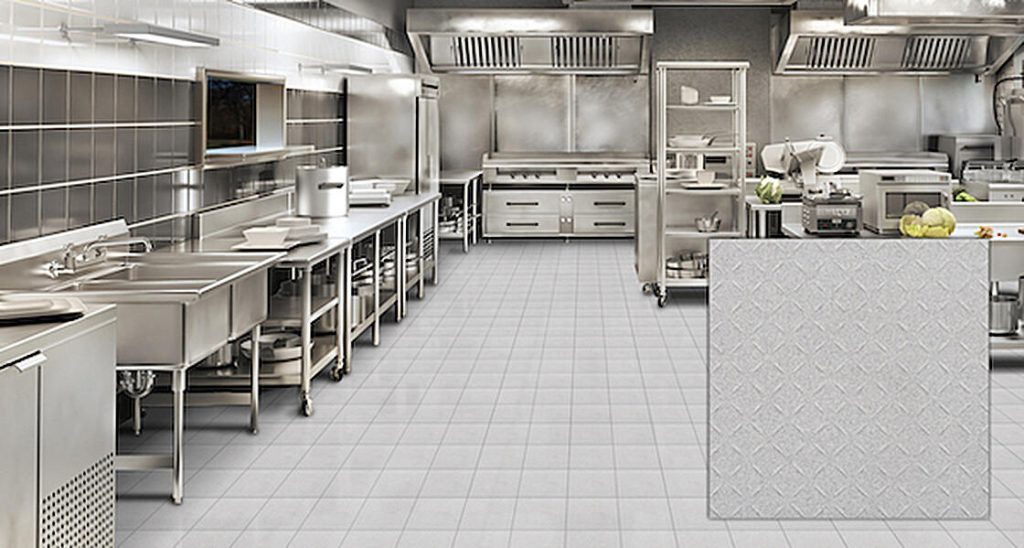 Why Tile is a Smart Choice for Commercial Floors
Tile is a highly sustainable building material that can last for a lifetime or be recycled and repurposed for future construction projects. Tile promotes healthy air quality as it does not trap allergens like dust, pet hair, or pollen. And unlike concrete, which offers durability, tile can also help create an attractive aesthetic. However, for commercial applications, you must be conscientious of the material, texture, and finish of tile you choose.
Popular Commercial Tile Options
Porcelain Tile is made from clay fired at a very high temperature, which makes it dense and solid, much more so than traditional ceramic tile. Porcelain tile is
defined as any tile with a water absorption rate of 0.50 percent or less. Therefore, their surfaces are water and stain-resistant, which makes porcelain tile a great choice for high traffic and/or moisture-heavy areas.
Quarry Tile is a hard, paving tile made from ground minerals such as shales and clay. They are formed and fired in a similar method as is used to make brick. Quarry tile has relatively low moisture absorption and qualifies as vitreous (glass-like, tough, dense, and shiny), but is not quite as dense as porcelain tile.
Ceramic Tile is made from clay that is fired and glazed / decorated at lower temperatures than porcelain tile. The glazing provides the color and makes the tile durable. However, ceramic tiles are prone to chip and are less resistant to frost (cold exterior temperatures and indoor freezers) than the alternatives.
Terra Cotta is another category of ceramic tile, made from easily shaped clay with high iron content. Like ceramic, terra cotta is fired at a relatively low temperature and is very porous unless it is glazed. Although attractive for many commercial tile applications, it is not the most durable or practical choice for commercial kitchens.
Crossville's Solution for Commercial Kitchen Flooring
While quarry tile is the most commonly relied upon option for commercial kitchens, Crossville's Cross-Tread® was invented specifically for back-of-house restaurant and hospitality spaces. Cross-Tread® was developed in a joint effort between Crossville and experts from the restaurant industry to produce a practical and versatile flooring solution that can withstand common commercial kitchen conditions such as moisture and grease. The Cross-Tech porcelain tile series was designed to outfit high traffic commercial areas that require increased slip resistance, as well as ease of maintenance. Crossville offers two proprietary tile finishes specifically designed for slip-resistance and enhanced traction: Cross-Slate® and Cross-Tread®.
Cross-Slate® finish combines the rustic and textured feel of slate with through body color and an unglazed structured surface. It's well suited for interior floors and walls, as well as exterior walls, and exterior walking surfaces in both commercial and residential environments.
Cross-Tread® not only offers superior slip resistance and easy care and keeping, but its surface pattern is also eye-catching, making it a great choice for greasy floor areas, internal and external walkways, as well as transitional areas, where it can serve as functional accent tile.
Cross-Tread® Advantages Over Quarry Tile
Cross-Tread's unique design keeps the foot elevated so that it does not come into contact with grease and other contaminants that may be found on the floor
Installation costs are significantly reduced when epoxy grout is used with Cross-Tread®. With narrower grout widths and shallower depths, the grout needed for installation is reduced by as much as 60%. Smaller grout joints also lend to a more modern and appealing overall look.
Crossville's porcelain tile weighs less than quarry tile, which in turn, lowers the freight cost.
Crossville tile is readily available because it is made in the USA. It is manufactured in Crossville, TN.
Because Cross-Tread® is offered in larger tile sizes (8″x 8″) with fewer grout lines, Cross-Tread® takes less time to install, which saves on labor costs.
Cross-Colors Mingles with Cross-Tread®
In addition to the myriad of technical advantages, Crossville's Cross-Colors Mingle collection offers an extensive color palette. Compared to the standard red quarry tile, Cross-Colors Mingles offers nine different color options with the patented Cross-Tread® finish to beautifully complement you space, as well as a full package of coordinating trims.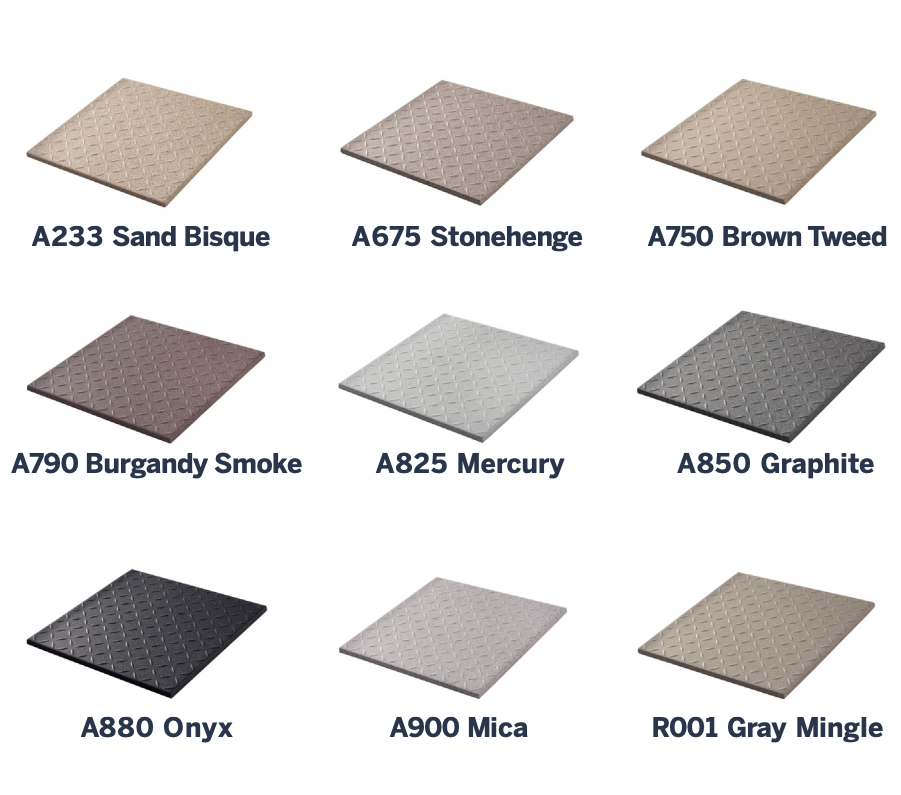 Specifying tile for your commercial kitchen or back of house area makes work safer and easier for your staff because it is quick and easy to clean and is made to endure high traffic beautifully without compromising aesthetic. Crossville products require minimal upkeep in order to remain sanitary and looking like new. In keeping with our values of sustainability, it is highly recommended that low-VOC, non-hazardous, and non-polluting products are used for cleaning and maintaining your Crossville tile.
Crossville's porcelain tile collections are engineered to offer high durability and will provide great value for the life cycle of the product. This premium porcelain tile will hold up elegantly even after years of heavy traffic in wet and/or greasy environments. With Crossville's vast selection of finishes and coating solutions, there is no shortage of options for commercial design projects that are functional, stylish, and safe. Click here to browse the full collection.
For more tips, products, and trends from Garden State Tile, follow us on Instagram, Twitter, Facebook, and Pinterest.