Choosing Glass Tiles
Wednesday, April 13, 2016
|
Posted by Michelle Stalmok
Glass tiles could be the perfect way to spruce up any home. They are decorative, durable, and produce an attractive look that can match any design. However, deciding what type of tile you should use for each room can be difficult. You obviously want to choose a color that matches the rest of the décor in your home, but what else should you consider? The amount of traffic an area gets combined with the design of the tile may be all you need to know when deciding what tile to use in your home.
Clear Glass Tiles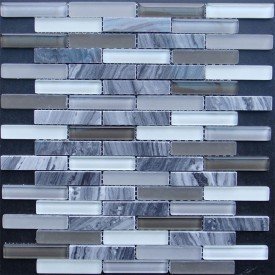 This type of tile is completely clear with a colored background. It creates a beautiful, glossy look for your wall or floor. Because of its clear nature, scratches, grime, and water spots easily show up on the surface. It may not be the best idea to put these tiles in your bathroom or as a kitchen backsplash unless you are up to the constant cleaning and maintenance. You will want to put this type of tile in a low-traffic area, perhaps as an accent wall in your sitting room reserved for company.
Opaque Glass Tiles
Opaque tiles have a mask of color on them. They generally have a frosted or pearlescent appearance and are easy to clean and maintain. Because they hide water spots and dirt and are available in various textures and finishes, opaque glass tiles are great for any high traffic area such as a kitchen backsplash, fireplace surround, or bathroom.
Outdoor Glass Tiles
Some glass tiles are also manufactured specifically for the outdoors. They can be used in swimming pools, fountains, ponds, or outdoor kitchen areas. For this type of tile, use opaque or patterned glass tiles because they hide any dirt, grime, or water spots. Also, make sure you use adhesives and tile that are strong enough to hold up to the weather and abuse that comes with being outside.
As you shop for the glass tile you'll use in your home, think about the maintenance that will come with your installation spot. Glass tile can be a huge advantage to any part of your home décor if used correctly.